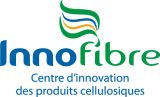 Innofibre
Our mission
«Contribute to the technological positioning and to Quebec pulp and paper industry sustainable development by supporting the innovation and the diversification of biomass made products and by adapting pulp and paper technologies.»
How to reach our mission?
By the technical assistance
By the applied research
By the technological tranfer
By the training support
Our vision
«Innofibre aims to be the first choice for a reliable access to a specialized laboratory and a unique pilot plant in Canada. The team counts on its expertise, dynamism and long-term relationships with customers and partners to remain a center of excellence committed to the success of their innovation projects.»
Our values
Respect: Innofibre place at the forefront the consideration for people: people of the team, customers and partners. Priority is also focusing on meeting deadlines, budgets and quality.
Commitment: This value is reflected in the desire and incentive to Innofibre people to do more and better for the success of projects. The team is motivated and energized by all the challenges ahead to deliver the best results to customers.

Responsibility: Innofibre makes sure to take into account the impacts of its works at all levels: health, safety, finance, society. Each employee is accountable and contributes so that Innofibre takes its responsibilities as an organization.
Consultation: In his actions, Innofibre always tries to take into account the customer's needs. Service offers are developed in a team effort to quickly converge on the best ways to achieve the objectives.
Innovation: Innofibre exerts a constant technology watch to make sure to present the best proposals to companies and to support its partners in the best way. Innovation is also considered in the management process and at the creative adaptation of technologies for unusual uses.

A unique pilot plant in Canada
Innofibre has a unique pilot plant in Canada to reproduce processes partially or in full. The plant has:
A space for pulping, pulp treatment and biorefining.
A complete pilot paper machine, including the most advanced technologies.
Surface treatment equipment to modify and functionalize papers and paperboards.
Confidentiality
Discretion assured in all stages of your projects
Project specific confidentiality agreement.
Back to list
Visit website