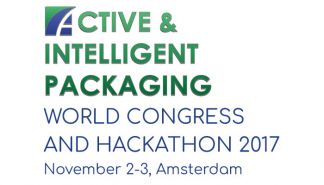 NEWS: It's Time to Have Your Say at AIPIA World Congress
27-03-2017
The AIPIA World Congress and Hackathon will take place on 2/3 November 2017 in the Beurs van Berlage in the heart of Amsterdam. We are now beginning the process of building the program for this exciting and hugely popular event. So we now ask for expressions of interest from those companies and persons who would like to be considered as a speaker.
Remember the Congress is the most dynamic event for the Packaging sector. We want to hear from you with new ideas, services, products or concepts which are helping to increase the use and successful implementation of Active & Intelligent Packaging. Your presentation needs to put your topic in a proper context (and not be a sales pitch please) so it looks at the developing 'state-of-the-art'.
The Congress has made its reputation by offering the best insights into the world of Active & Intelligent Packaging.
HACKATHON & EXHIBITION
This year the congress will incorporate four Hackathons, where companies and delegates will come together to brainstorm and solve an Active & Intelligent Packaging issue in a highly interactive session. If you would like to chair one of the Hackathons and choose the topic, you must invest in a Hackathon Demonstration Booth which gives you the ultimate opportunity to reach the companies attending. Only four opportunities exist, see the website for full details, or again contact Eef at eef@aipia.info
Other exhibiting opportunities exist; Sprint Booths and Marathon booths. Again, full details of the package offered to exhibitors and costs are on the website. To discuss these opportunities further please contact Tjitske Buurman: tjitske@aipia.info
News overview