First, check your egg…
| 28-05-2019 |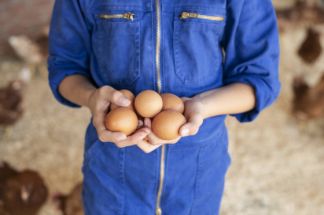 Dutch retailer Albert Heijn has the ambition to make all fresh supply chains transparent by 2025. The store continually strives to improve the well being of their egg laying chickens, as part of its animal welfare campaign, so needs to deliver at least a 1-star BLK certification for all eggs sold at its stores.
On top of transparency and animal welfare Albert Heijn wants to tell consumers about provenance, product information, etc. They turned to SIM as their technology partner to make this happen, using that company's Powerchain blockchain system to facilitate supply chain transparency, as well as animal welfare and consumer information.
The blockchain technology adds a level of truth, that all partners have access to at all times and at the same time, says SIM. Data is captured and shared in the Powerchain in detail through every step of the supply chain by every supply chain partner. So, for example,the living conditions of the chickens, the type of feeding and stable light schedules at farm level can be shown.
All this information is logged into Powerchain and made assessable to consumers. They can check this data at the individual level, using a unique number on every egg! SIM developed a special website and the number on the egg gives the unique farm identification and links to the detailed information, such as theexpiry date, the route theeggs took and the conditions of the chickens at the time of egg laying.
"We ensure that all information in a production chain is available, so that it is clear where, under what circumstances and by whom the products were made. And especially that this information can be trusted. With our technology, consumers also have more background information available about the farmers, the environment and the animals behind the eggs they want to buy,"said Leontien Hasselman-Plugge, CEO of SIM.
« News feed