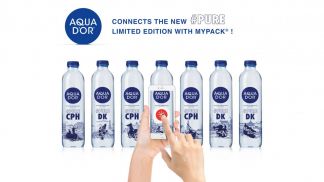 NEWS: Connected Bottle Adds Sparkle to Danone Waters
29-05-2017
MYPACK team has confirmed that Danone Waters has chosen the MYPACK® mobile-centric IoT solution for connected packaging with a scope of activation for up to 20 countries where Danone Waters currently operates. Part of the worldwide food company, it offers a well known range of waters and low-sugar drinks including the top brands Evian, Volvic and Badoit.
The group has already shown strong interest in IoT solutions, including marketing campaigns such as Evian's on Snapchat, promoting exclusive brand content, display ads teasers, and increased engagement with interactive lenses.
The company has launched its first connected bottles with packaging recognition app MYPACK® for its Danish brand AQUA D'OR Mineral Water. The brand has launched limited edition bottles in collaboration with Copenhagen airport to promote tourism in the city, featuring 7 different designs that invite consumers to scan their bottles to discover AQUA D'OR #purecph and #puredk.
Through this connected packaging solution, AQUA D'OR encourages consumers to push the experience forward with the bottles. Additionally, when consumers collect the 7 designs, the brand offers an Oplev Danmark Smartbox to enjoy a special day for 2 persons.
To achieve this, AQUA D'OR uploaded the 7 designs featured on their limited edition bottles on the platform MYPACK CONNECT® to let the recognition algorithm recognize graphic components on bottles and push the appropriate content associated with the right bottle, eliminating embedded material and reprint issues.
This Internet of Product mobile technology also supports commercial operations and obtains strong engagement from consumers through user generated content using the hashtags on social media.
News overview