CONGRESS 2019: Three ways to fight or control Food Waste
| 29-10-2019 |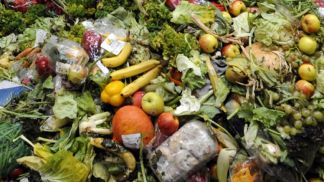 This year during the Congress several presentations and demonstrations will focus on the fight food waste or control and monitor how perishable items move through the supply chain and on to the consumer. Wasting food unnecessarily is regarded as having a bigger environmental (and social) impact on the planet than all the packaging waste combined. Here are some of the technologies on parade in Amsterdam
Insignia Technologies' innovative smart labels have proven to extend the shelf-life of a variety of foods. FreshTag is an innovative new time and temperature monitoring system that links together the entire supply chain from point of production through to QSR/store. Dr Graham Skinner, product development manager fort he companies will explain how the After Opening Freshness Timer is a time and temperature sensitive label which allows the consumer to track freshness of MAP products once opened. Based on patented colour changing technology these labelling solutions are significantly impacting food waste for major global brands.
Dr Xu LI Senior Scientist Institute of Materials Research and Engineering will talk about the achievements of the Institute's research into a nanostructured iron/carbon based oxygen scavengers with high capacity. The scavenger has been integrated into coating suspensions to produce a transparent oxygen scavenging coating
While oxygen scavenging sachets have been used for some time to remove residue oxygen in the headspace of food packaging to maintain the quality of the oxygen sensitive foods during distribution, storage, sale, and use, they are not applicable to pastes or liquid foods.
In his talk, Dr Xu will show that transparent coating applied onto PET can achieve oxygen scavenging capacity of 8.8cc/100cm². It can be applied to packs of pastes or liquid foods. He will demonstrate that scaleable production on existing industrial production lines is straightforward.
Wayne Johnson, director at OAL Connected, is explaining how his company is pushing the boundaries of technology and introducing the use of Artificial Intelligence (AI) to food packaging lines, helping to minimise product withdrawals due to incorrect packaging and date codes. This will contribute to the protection of consumers and reduce waste, he says.
Clearly product recalls due to incorrect label and date codes can jeopardize consumer health and cost food and beverage manufacturers huge amounts of money. By using the latest artificial intelligence technology, it's now possible to eliminate these recalls and ensure the right date goes on the right packaging for the right product every time, according to OAL.
SEE AT AIPIA WORLD CONGRESS AMSTERDAM NOV 18-19
« News feed