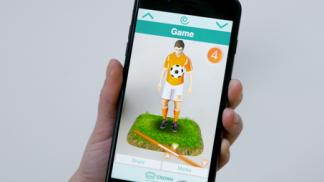 NEWS: Bringing Augmented Reality to Smart Products at Industrial Scale
21-10-2017
EVRYTHNG, the Internet of Things Smart Products Platform, and Zappar, a global leader in augmented reality (AR), have announced a new partnership. Expanding its ability to web-enable physical products at scale, EVRYTHNG now allows brands to power AR applications—as well as a full suite of digital product lifecycle applications—via their products.
The partnership empowers brands to drive consumer interactions with AR experiences at massive scale through Zappar's class-leading AR content authoring and publishing platform. EVRYTHNG is already digitally-enabling billions of consumer products via unique and intelligent software identities in the cloud.
Though this partnership, codes on product packaging can now be connected to Active Digital Identities™ in the cloud to deliver rich short-form content, while also driving digital product lifecycle management capabilities and capturing real-time data throughout the life of the product. Brands can then use these insights, which are accessible via EVRYTHNG's cloud-based data management platform, to optimize their supply chain operations and strengthen customer relationships.
For instance, a cereal brand can use data insights from an AR game to schedule a reordering notification to be sent to the consumer. With the added benefits of increased dwell time, active engagement, table time, and increased rates of repurchase, the AR experience also provides insights into where and when products are being bought and used.
The AR experience delivers value for the consumer, all while delivering ROI to brands. Product packaging for food brands can surface relevant recipes, food preparation tips, nutritional information, coupons, and related brand promotions and offers. These interactions are captured and tracked by brands in the EVRYTHNG platform to better understand usage habits among audiences for future product and marketing decisions.
"Our partnership with Zappar is yet another way we're bridging the gap between the physical and digital for brands and consumers," said Niall Murphy, co-founder & CEO of EVRYTHNG. "This addition of AR to our portfolio of rich digital applications powered by smart products allows brands to deliver interactive experiences that drive consumer engagement, insights, and business impact."
"EVRYTHNG is the perfect partner for us. They bring big data and serialization to bear in a way that complements our approach to AR," said Caspar Thykier, co-founder & CEO of Zappar. "We strive to make AR truly mass market, scalable, efficient, affordable, and effective but also engaging and interactive for our partners. We share a common goal to build an always-on digital relationship between the physical world of things and devices that a brand controls to drive added value experiences, analytics, and results."
Both Zappar and EVRYTHNG will give presentations at the upcoming AIPIA Congress and will be available at their booths to discuss the exciting possibilities this new partnership offers.
Find more information about Zappar's presentation here!
Find more information about EVRYTHNG's presentation here!
News overview