Brazil hosts first Latin America Smart Packaging Centre of Excellence
| 19-05-2020 |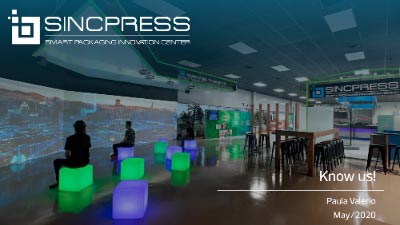 Sincpress, which focuses on the challenge of applying the most advanced technologies for complete and connective packaging, has been designed to be the first Centre of Excellence in Smart Packaging (CoE-SmPa) in Latin America. The objective is to guide customers, partners and suppliers in the use and development of these technical and strategic solutions.
The centre is largely the creation of the Flextronics Institute of Technology known as FIT in partnership with Flex - a leading Sketch-to-Scale™ solutions company. This solution allows companies to make the transition from the analogue world to a fully digitalised one in order to participate in the world of ultra-connected supply chains, customer relations, sustainability and society, according to Leandro Santos, managing director & VP of Flex Brazil.
With a multidisciplinary team, especially aimed at creating solutions for packaging of electronics, pharmaceuticals, consumer goods and the food & beverage sectors, they aim to develop technologies with three main pillars in mind: Brand Protection; Consumer Experience and Sustainability.
Some successful cases of smart packaging have already been delivered in Brazil by the computer and printer manufacturer HP Inc., in partnership with Sincpress. The first initiative was launched in 2018, during World Environment Week and consisted of applying watermark technology to special and limited packaging of some original HP Cartridges.
By scanning the front image of the package and downloading the LinkReader app, developed by the brand itself, the consumer was directed to information on how to recycle their cartridge and participate in the HP Planet Partners program.
With the success of this project, the company started to put smart packaging, now serialized, in Deskjet Ink Advantage 3700 packaging and printers. This specific project aimed to reinvent packaging, inserting a unique identification on each product, connecting the physical and digital worlds to create interactive experiences that reduce the carbon footprint, optimize the supply chain and improve the customer experience, it says.
In this application about 95% of the physical informational materials that come with the product, have been replaced by online information and video tutorials, accessed via digitalization of the packaging, making the experience more intuitive and reducing the consumption of printed papers. This resulted in more than 16,000 views of the content via the watermark or a QR code. There were more than 8,000 views of the printer installation tutorial video and zero customer complaints. Plus the printers reduced their carbon footprint by more than 31.5 tons of CO².
« News feed