AIPIA Congress 2019 Part 1: It was the SMARTEST place to be!
| 03-12-2019 |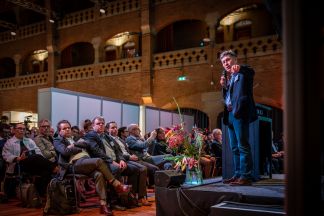 This year's AIPIA World Congress 2019 closed its doors following the largest and most successful event for Smart Packaging – ever! More than 350 delegates (including over 30 Brand Owners) listened to 60 plus speakers and were able to see more than 30 companies demonstrating the latest technologies and services on offer. It turned out to be the SMARTEST packaging event of the year.
Among the highlights on the main stage were two Brand Challenges. The first, by Abbott Laboratories, saw eleven companies pitch their ideas for connected Health packaging to offer Trust and Credibility and Digital Sustainability to build long term value in a cost effective way. This challenge was won by: Systech, with runners up were Arylla and Constantia Flexibels. The winner will continue its conversation with Abbott to develop a solution for the company.
Next up was Coca-Cola who challenged nine companies to help them with their aim to recycle a bottle or can for every one sell by 2030. The company is heavily involved with a Deposit Return Scheme (DRS) but sees certain disadvantages in terms of costs of implementation and functioning of a DRS. The challenge that Coca-Cola proposed was how smart packaging can contribute to address the disadvantages outlined above whilst improving consumer convenience to recycle and engaging consumers in the process. The winners Hyve Connect, Recycl3r and ST Microelectronics will meet with senior Coca Cola executives to take their ideas further.
One of the important events running throughout the Congress was the final conference for the Nanopack project, of which AIPIA has been a partner. The three year, EU Horizon 2020 funded project has successfully developed a new flexible packaging material, incorporating nanotechnology, using essential oils, which is proven to offer greatly extended shelf life to a whole range of products, such as some fresh produce, bakery items and cheese. The project also demanded the film could be manufactured commercially and not just at lab scale, and again this has been achieved.
In Part 2 we will showcase Nestlé's announcement of its smart packaging strategy for the future; how Wyeth Nutrition teamed up with DSS and Sun Chemicals to offer authentication as well as personal customer experience for its Infant Formula products; and a flavour of what went on in AIPIA's first ever MASTERCLASS: The Role of Blockchain in your Smart Packaging Eco-system.
In fact there was so much going on its a pity some of you missed it! Lets hope we see you at the 2020 event...
« News feed