A product's journey can become part of the digital consumer experience
| 30-11-2021 |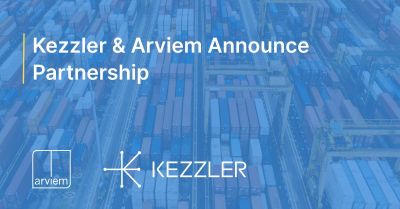 AIPIA member Kezzler, a leading cloud-based enterprise traceability solutions provider and Arviem, a major provider of IoT enabled multimodal real-time visibility services, have announced a strategic partnership offering end-to-end supply chain product traceability and digitization. The companies say integrating these technologies will allow true end-to-end product traceability by combining unit level product digitization and aggregation, with global real-time IoT sensor data, collected during a product's multi-modal global journey.
Kezzler's cloud-based platform digitalizes every product making them distinctive, traceable, and interactive through a unique digital identity (UID). The UIDs are assigned to every product within a QR code, data matrix, NFC/RFID tag, or alternative carrier.
Arviem's IoT sensor-enabled devices travel with the cargo, recording data on its position and conditions in real-time. The captured, independent data is then analysed to reveal and mitigate previously hidden risks. By exercising more granular control over their production and supply chain process, manufacturers get to know the complete history of each product. This includes events happening during transit which may affect quality, such as temperature and humidity fluctuations..
This additional layer of control ensures product quality and safety, they say. The gained real-time unit-level knowledge enables actionable insights, empowering clients to develop value driven strategies to continuously challenge and improve their supply chain.
In addition secure and traceable UIDs create new opportunities to stay relevant and actively engage with target audiences, according to Kezzler. By delivering value-added content on the product itself, in real-time, clients can actively communicate an auditable story of each individual product's journey, to enhance consumer engagement and retention programs. Also the data can be used to reduce product and process waste, helping to document the carbon footprint of each item.
Stefan Reidy, CEO of Arviem explains, "Beyond achieving operational efficiencies, manufacturers can elevate the consumer product experience by making each product interactive and by providing a product journey story to consumers. Brands are equipped with data to provide information on where a product comes from and how it was produced and also prove that the quality and authenticity of the product can be trusted, the ingredients were ethically sourced and generate the lowest possible carbon footprint."
Christine Akselsen, CEO of Kezzler commented, "Thanks to this partnership with Arviem and the enhanced insight into the product journey the joint solution offers, Kezzler can continue its commitment to helping customers solve problems such as counterfeit goods, unauthorized distribution, changing regulatory requirements and continue to build and protect consumer trust."
"Additionally, with the help of end-to-end traceability, manufacturers are equipped to meet the needs for newly emerging regulations such as the US FDA food traceability, the Russian crypto codes and upcoming Chinese food traceability legislation," she added.
« News feed