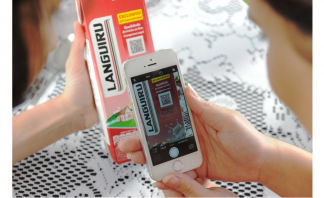 NEWS: Total Control and Transparency from QR based System for Dairy
14-06-2017
SIG Combibloc a leading makers of aseptic carton packaging systems for food and beverages has partnered with Languiru, of Brazil, to launch an innovative digital solution to ensure total transparency of quality and food safety, as well as control of the production process in the industry and personalized digital marketing, it says.
A Languiru dairy range, "Qualidade do início ao Fim" ("Quality from Beginning to End"), is filled in long-life packages with individual QR codes, printed at the time of production. They allow the monitoring of quality processes in a single platform.
Each one of the shipping boxes also receives a unique QR code and the pallets are identified by a bar code as well. This control system allows the operational traceability from the farm to the point of sale. With this, each pack can be traced or recalled at any point in the value chain, it says. QR codes are printed with anti-fraud paint that cannot be removed by solvents.
Consumers reading the code will be automatically directed to the website related to the product. The website is an integral part of this SIG solution, where data will be available about the customer's quality system, the product and the production process, as well as an interactive area.
"The launch of this new digital platform is our solution for three mega-trends dictated by consumers: connectivity, authenticity and trust," says Ricardo Rodriguez, CEO of SIG Combibloc Americas.
The new technology, which will be available in 40 countries where SIG operates, allows the complete control and management of the production lines to maximize the plant's overall efficiency, and cut operational and investment costs using a specific information intelligence tool known as Power BI.
The unique QR codes also allow the simplification and customization of promotions. SIG has developed an application that will allow the development of rich databases for marketing and sales analyses.
A proprietary application connected to the MES system was developed to track the product in the distribution chain. RFID technology is used to incorporate quality information. The platform developed by SIG is open and therefore allows connection to equipment from different suppliers. The interfaces can be used for capturing information and for performing process data analysis for optimizing manufacturing efficiencies and lower operating and investment costs, says the company.
News overview