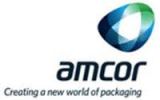 Amcor Flexibles Froges
At Amcor, we are always looking for fresh ways to deliver better products, because packaging should perform beyond its basic functionality.
We're creating a new world of packaging; leading the way in innovative solutions that minimise harm to our planet, securing and protecting products, and meeting the needs of our customers and the expectations of today's socially and environmentally conscious consumers.
Our in-house design force collaborates quickly; creating thoughtful, beautiful and innovative solutions and the communications devices that carry them to market.
Advanced engineering and virtual simulation capabilities, 3D models and prototypes, mean that you can see, touch, realise and adapt the potential of sustainable, on-brand proposals that perform on all levels.
Amcor offers end-to-end project management, from idea generation to manufacturing. This 360-degree service model means we can step in at any stage of development, or work on any single part of a process where our expertise is valuable.
Let's take a journey together; from art through to science.
Back to list
Visit website