Wine producers combines QR and photochromic ink for authentication
| 03-03-2021 |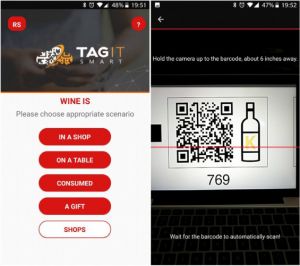 A team of researchers from Montenegro, Serbia, Finland and the Netherlands has undertaken a pilot study for a range of wines produced in Eastern Europe. They have developed a solution based on smart tags applied to the bottles of wine to provide track and trace capabilities, based on QR codes, plus additional information printed using an invisible photochromic ink.
The tags are activated by the flashlight feature on mobile devices during the scanning process. Storage and data analysis is held on the Microsoft Azure cloud, using the TagItSmart! Platform developed with support from the EU Horizon 2020 program and the GS1 Digital Link Standard.
One of the most common way of wine counterfeiting is printing a fake label which resembles an original wine label with very subtle. Sometimes, counterfeiters use the authentic labels removed from more expensive wines and place them on cheaper wine with similar bottles, or the drink inside the bottles is fake wine. This is a real problem in Montenegro, as well as the rest of South East Europe, according to the team.
Consumers can use a mobile app that provides an update on status and location of a bottle. Before scanning, users are prompted to select the context of the wine bottle – in store, sold, or consumed – to provide additional information about each bottle as it moves through the supply chain.
During the pilot there were 200 downloads of the mobile app and 500 scans by the public on bottles in the supply chain, with feedback provided in the form of 51 product quality ratings and 109 surveys, all carried out within the app.
A drawback of the dual authentication system tested was the use of photochromic ink, which showed a gradual loss of functionality, bringing into question its suitability for products with a long shelf-life such as wine. The first batch of inks denatured within five to six months, although the team believe better inks or other technologies could be used to improve longevity.
"Further research will explore the use of different types of smart tags and IoT sensors, employment of machine learning models that could be developed using the historical data collected over time, as well as the use of blockchain technology to store the product information and status updates," the researchers say in their report first published in the Internet of Things journal..
« News feed