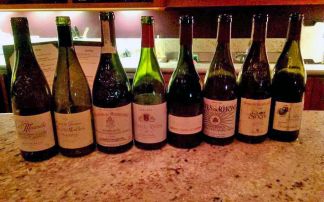 NEWS: Wine Fraud 'Off the Scale'
10-04-2018
The scale of France's Côtes du Rhône wine fraud scandal in 2017 is larger than first thought, with new figures revealing that as many as 66.5 million bottles of wine were counterfeit, reports Securing Industry. Original estimates for the scam that began in 2013 and which was uncovered last year, suggested that the amount of fake wine was around 40 million bottles, it says.
The fraud revolves around bulk wine trading company Raphael Michel, which is accused of rebottling and labelling cheap red table wine as premium wine, specifically Côtes du Rhône and Chateauneuf-du-Pape. The bottles were sold for as little as £15 (around $21) and, in some cases, for as much as £100, in many European markets.
The company has been under investigation since last year after French Customs officials found discrepancies and potential violations during a routine audit, according to SI. It's chief executive Guillaume Ryckwaert was arrested last June on charges of fraud, deception and violations of France's consumer and tax codes, and accused of masterminding the wine fraud racket. He has denied any wrongdoing.
According to French authorities, which have called the scam "a massive misuse of the Côtes du Rhône label", 15% of the annual output of the label between 2013 and 2016 is believed to have been counterfeit, equating to around 50m litres or 5.33m cases, Harpers Wine and Spirit claims.
The cheap table wine that Raphael Michel is accused of using would, under normal circumstances, have a price tag of up to £5 ($7), highlighting the extent of the mark-up generated from the fraud.
No winemakers from the Rhone region have been implicated in any wrongdoing, says the report. However, they have argued that the scandal has damaged the image of the region and their brands and have joined the civil case against Ryckwaert.
Commenting, AIPIA's executive director Eef de Ferrante said, "If ever the case for authentication and anti-counterfeiting measures needed making, here it is! If proven, this is fakery on a grand scale and using simple, affordable A&IP technologies it could be prevented,"
All about A&IP Summit
June4-5, Jersey City
News overview