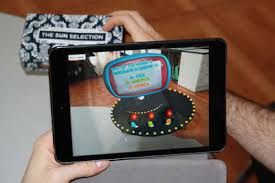 NEWS: Watch Out for MORE Augmented Reality Packaging Technology in 2017
22-02-2017
Augmented Reality (AR) is one of the most exciting technologies to emerge in the intelligent packaging space and one to watch in 2017, according to a recent article in Australian packaging journal PKN. AR is opening a world of possibilities to brand owners seeking to drive immersive consumer interaction with their products
Along with other consumer engagement-enabling technologies, like digital printing, AR is being hailed as a dynamic marketing tool that is set to revolutionize the packaging industry, it says. The main difference between AR and virtual reality (VR) is that while VR involves creating a totally artificial environment, AR uses the existing environment and overlays new information on top of it.
As applied to brand packaging, the digital information is visible through mobile or tablet devices and is enabled by an app, available to download on iOS and Android and which works on most tablets. The user points the camera at the 'target' area on the pack, such as logos, icons, pictures or the entire pack itself, and the app will activate the content.
For brand designers and marketers, AR is a gateway to a new dimension in on-pack communication, says PKN. It opens a world of content and rich experiential possibilities for consumers, because the information is no longer limited to what can be printed in the limited real-estate on the label or pack.
As today's shopping experience grows increasingly interactive, and the consumer's relationship with their smartphone deepens, smartphone integration into the product experience is an obvious way for brands to engage consumers. By turning the package into a multidimensional communication vehicle, AR technology offers almost unlimited creative and value-adding scope, and is changing how consumers interact, use and think about products
Big brand owners like McDonald's, Nestlé, Mars and Mondelez are among the growing number making use of AR, as its flexible platform, allows for frequent changes of content without any change in packaging design – a cost- and resource-efficient way of driving sales.
News overview