RFID powered Text-to-Speech feature on medicine bottles
| 05-09-2019 |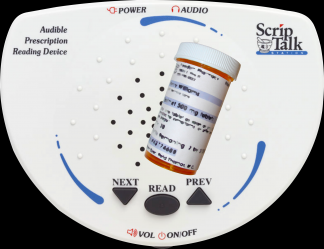 Two major pharmacy retail outlets in the USA, Sam's Club and Walmart, have confirmed their use of a talking medication device which leverages RFID technology. The ScripTalk technology, provided by En-Vision America, is intended to help the visually impaired access their prescription information.
The solution, which was deployed this summer, reads RFID tags to identify each bottle of medication, access data about that particular drug from the tag, and then read out those details for patients.
Walmart and Sam's Club (a wholesale club owned by Walmart) initially piloted the technology at three pharmacies, from in 2012, then expanded to 1,200 stores. Now, the companies are to provide the technology at all pharmacies, due to its popularity with patients. Those with vision impairments often struggle to access information about the medications they are taking. Although prescriptions on medicine bottles can be printed in large print, that isn't enough for some patients.
En-Vision America is a technology firm focused on assisting those with vision impairments, explains David Raistrick, En-Vision VP and co-founder. It has offered systems such as a talking barcode scanner, as well as braille and large print. The talking prescription labels are the first of its products to employ RFID technology to identify an item and access content that is then spoken to a user.
ScripTalk employs an HF RFID printer and reader, compliant with the ISO 15693 standard, as well as a read station and tags that are attached to each medication bottle. Pharmacies operate the company's Sciptability software, which integrates with their own prescription-management software.
They also need the tags, which store written data. They can either print the labels with RFID tags built into them, using the ScripTalk printer (which can print and encode a standard prescription label), or they can manually apply a one-inch-round medallion label to the bottom of each prescription bottle, which is already encoded and ready for data to be written to it.
The ScripTalk station used in the pharmacy, Raistrick explains, comes with a USB cord to connect directly to a PC running the software, which utilizes a text-to-speech feature. First, a patient requests the ScripTalk service when medicine is ordered. The pharmacist then either prints the RFID-enabled label or places the pre-encoded, disk-shaped RFID label on the bottom of the container.
SEE AT AIPIA WORLD CONGRESS AMSTERDAM NOV 18-19
« News feed