Partnerships lead to better authentication and anti-counterfeit solutions
| 01-10-2019 |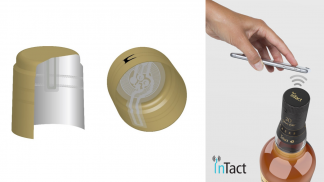 TOPPAN with Amcor and Kezzler with Arca Etichette, all AIPIA Members, make strategic partnerships to improve market reach. See their products at the AIPIA Congress 2019 in Amsterdam.
Norwegian based AIPIA member Kezzler, a pioneer of serialization technology and Italy's Arca Etichette, which provides labelling and identification solutions, have announced a strategic partnership to market Kezzler Authenticate.
Under the agreement the companies will work together to promote Kezzler's brand protection solution in the pharmaceutical, chemical, cosmetics and food industries in Italy, as well as in other European countries where Arca Etichette has customers. Authenticate is designed to make digital brand protection easy through a fully built and hosted end-to-end solution that enables consumers to verify their products are genuine. It utilizes intelligent authentication and real-time monitoring, in addition to dual code labels, for product validation.
"Companies are increasingly looking for solutions that can help them protect both their brand and their consumers by ensuring supply chain visibility and enabling product authentication in real-time. Arca is looking forward to working with Kezzler to promote holistic and innovative solutions in our key markets," said Arca sales director Andrea Valtora.
CEO of Kezzler Christine C. Akselsen stated, "Arca is strategically placed to support Kezzler in marketing its brand protection solution in Italy and beyond, and we welcome the opportunity to advance our work together."
Elsewhere Toppan Printing a global provider of communication, security, packaging, décor materials, and electronics solutions, and major global packaging company Amcor, are combining Toppan's strength in the development of NFC tag-based high-security technologies with Amcor's manufacturing and supply capabilities to offer InTact, a capsule for wine and spirits with an integrated NFC tag that detects opening or tampering and will authenticate the product.
Following tests started in 2016 the creation of a robust supply chain has now enabled the launch of full-scale sales. The InTact capsule incorporates an NFC tag to detect breaking and can be authenticated using a smartphone. The capsule stores a unique digital certificate, which can also be used for targeted sales promotions and various consumer engagement campaigns. Toppan showcased the InTact capsule at LUXE PACK MONACO recently.
Most capsules for premium alcoholic beverages are made from metal, but because metal tends to interfere with the RFID tag's radio wave communication, Amcor has developed a new capsule with a unique structure combining metallic and non-metallic films.
"Our customers have an ever-increasing demand for functionalities such as product authentication, opening detection and consumer engagement and we have been working to develop a capsule construction that can incorporate an NFC tag with seamless communication," said Nicolas Freynet, general manager of Amcor Capsules.
"Toppan has been developing RFID tags for wine and spirits since 2014. A thorough understanding of the market and extensive insight regarding customers are required to ensure customers are able to make full use of RFID tags," said Yoshiyuki Mizuguchi, general manager of Global Business Development for Toppan's security products business.
SEE AT AIPIA WORLD CONGRESS AMSTERDAM NOV 18-19
« News feed