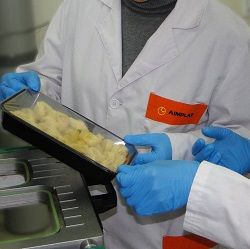 NEWS: Packaging Strategies for Food Shelf-life Extension
22-09-2017
There are few areas of A&IP which are attracting more attention than the technologies to offer longer shelf life and, so reduce food waste. This is not just a business issue, but one of international importance to Governments and the United Nations as well as the global population who, depending where they are, want better food, safer food…or just food.
From a commercial point of view Increasing shelf-life of perishable food is one of the main requirements to get to far away markets, keep the fresh appearance of food in the sales display, guarantee food safety for longer, increase rotation times in supermarkets, and reduce food waste to increase profitability.
In her Congress talk Rosa Gonzalez, senior researcher at AIMPLAS (Asociación de Investigación de Materiales Plásticos y Conexas), will offer some technical background and a user case to illustrate these points.
Strategies to increase shelf-life using plastic packaging can be addressed through the design of both multilayer structures with specific high barrier properties and smart packaging. Both strategies can also be combined to obtain a synergistic effect in food protection and shelf-life extension.
Both existing and novel plastics processing technologies already make it possible to obtain these types of structures. The key challenge is to develop new material formulations with high barrier properties as well as effective active properties at an affordable price.
Tailor-made solutions are often necessary, according to the food to be preserved, so the type of packaging, or the plastic material which is developed, must take account of that to enable successful food shelf-life extension.
Find more information on Rosa's presentation here!
News overview