New process creates home compostable packaging from chitin
| 19-02-2020 |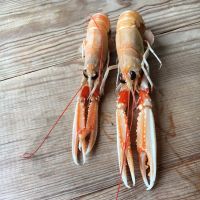 CuanTec is a Scottish biotech company tackling plastic pollution and food waste with a circular solution – an antimicrobial, home compostable replacement for plastic food packaging. The films are based on the use of chitin, the second most abundant natural biopolymer in the world, a sustainable material that obtained from many streams of seafood food waste.
The company extracts chitin from waste created by food processors of the shellfish industry (shells, heads, claws, tails) and convert it to chitosan. This is mixed with other natural ingredients to produce a flexible film similar to traditional plastic packaging.
But, unlike plastic packaging, CuanSave will biodegrade within 90 days in a home compost heap without causing any damage to the environment, says the company. As chitosan has antimicrobial properties, so does the packaging – this means it can extend the shelf life of products, helping to reduce food waste.
The company's scientists have come up with an innovative method of biological extraction. By using bacteria in the process, it has significantly reduced the volumes and concentrations of caustic chemicals used and minimized all waste streams. The only 'waste' generated is a high protein liquid that it would like to repurpose into a fish feed for salmon.
The process is also much more gentle than chemical methods, it claims, allowing it to be carried out at a much lower temperature, so reducing the energy input of the process. The entire process is designed to be part of a circular economy.
The product itself is home compostable, there will be no lasting negative impact on the environment from toxic by-products as it degrades. This packaging can be disposed of by home composting or food collection bins (no washing to remove food scraps).
The company's immediate focus is on the scale-up of its lab process and opening a pilot plant to begin large scale production of chitosan. The first product is planned as packaging for fresh seafood. Substantial funding, granted in September 2019 will go towards buying equipment to increase capacities. Full production is anticipated later this year or in 2021...
« News feed