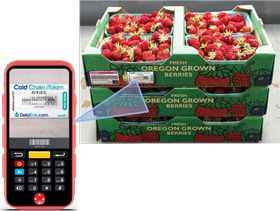 NEWS: New Temperature Monitor Ensures Perferct Produce Cooling
10-08-2018
Longstanding AIPIA member DeltaTrak® introduced its new FlashTrak PreCool Prime at the PMA Foodservice Conference in Monterey, California recently. The device is an automated wireless solution that monitors and records temperature during pre-cooling and alerts when correct internal produce temperature is reached.
Delays in cooling produce after harvest means a significant decrease in its shelf life, says the company. FlashTrak PreCool Prime allows personnel to remove pallets just in time and avoid problems associated with over cooling or under cooling. The net result is an increase in pallet throughput and improved operational efficiency, it claims.
According to Frederick Wu, President and CEO of DeltaTrak, "FlashTrak PreCool Prime not only gives you more turns per tunnel, but also saves energy and labour costs. Streamlining your operations with an automated system means pallets aren't kept in the cooler longer than necessary, which saves on electricity; and monitoring internal product temperature in real-time from a cloud-based dashboard will eliminate manual temperature logging."
This system has the added advantage of pallet level traceability by attaching a Cold Chain iToken label to each pallet and scanning the barcode to associate the pallet to a tunnel number and the pre-cool data. The iToken can also associate the pallet and pre-cool data to a PTI label (Produce Traceability Initiative), or other identification, such as lot code or order number.
The new monitor allows cooler operators to narrow the window of time it takes to remove field heat from produce, which maximizes quality and shelf life. They know exactly when to pull pallets from the cooling tunnel without taking manual pulp temperatures or estimating time. The system records dataand archives it for traceability, analysis, audits and verification of compliance with GHP (Good Handling Practices).
REGISTER FOR WORLD CONGRESS NOVEMBER 19-20, AMSTERDAM
News overview