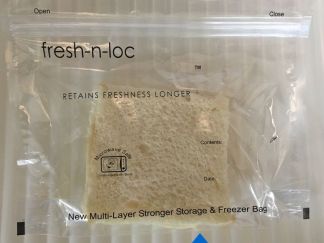 NEWS: New Antimicrobial Material Protects Cooked and Uncooked Foods
22-01-2018
India's largest flexible packaging company, Uflex has developed new packaging material with anti-microbial properties to improve shelf life of packed, cooked foods. The FDA approved packaging material will help to reduce microbial growth, enabling to keep the pouch active and enhance the shelf life of the cooked food, it claims.
The material features a sealant layer, which is specially compounded with anti-microbial properties. The new active packaging will be used to modify the internal environment by continuous interaction with the food over the specified shelf-life.
In a recently trial, at room temperature (without refrigeration or any temperature control), a sandwich packed in normal pouch was spoiled after 3-4 days, while the one that was packed in the new material stayed edible for 8-9 days. Bread has active yeast therefore the real challenge for the packaging was to curb the yeast from developing microbial growths, says the company. It is planning to test the new packaging material with different perishable food products, as well as meat and poultry products.
Uflex packaging and new product development joint president Jeevaraj Pillai said: "The pouch remains dormant when it is empty and swings into action only when it comes in contact with food. We also conducted trials on stuffed Indian bread (known as Paranthas) and the results have been very encouraging."
Explaining further Pillai said, "Uncooked rice is susceptible to infestation by weaver mites. The specially compounded sealant layer with anti-microbial properties can also be used to extend the shelf life of this rice in retail big bags. The specialized sealant layer, if incorporated in a Zip-Pouch, can actually redefine its sales trajectory. While an ordinary two-ply Zip-Pouch only protects the food items from the environment this product will actually work one step ahead and prevents the food from decay over a defined period."
"In tropical weather conditions, like we experience in India, this packaging solution can be very helpful in stopping the growth of fungi and other microbes that spoil food," he added.
The material, which was announced at the end of 2017, has taken more than two years to develop.
News overview