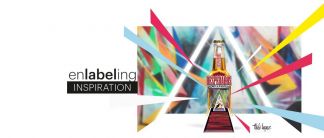 NEWS: Heineken enters a 'new dimension' with AR label
13-05-2018
We have been waiting a while for the next Heineken adventure into the world of A&IP. Now CCL Label has partnered with 9ème Concept, a French collective of artists, to create augmented reality (AR) edition for Heineken Desperados tequila-flavoured beer. The immersive experience is launched when consumers, wearing virtual reality goggles, scan the label
With this new augmented reality edition Heineken Entreprise enables consumers to enter a futuristic fantasy world through the label... They ask 'Have you ever stepped through a door leading into another dimension?' With the new AR feature it enables the consumer to do exactly that – directly through the Desperados label.
After their first successful promotion with Desperados Augmentée last year they teamed up again with long-term partners 9ème Concept and CCL Label to create another exciting limited edition that will blow minds, they say!
Artist Théo Lopez created the colourful geometric art world. The door to this world can be opened by scanning the label with the exclusively developed app. Together with the dedicated VR goggles it enables full immersion into the futuristic artwork. Travel through different layers of dimensions and experience the artistic process to discover the secrets behind Lopez' creations, they claim.
The labels were printed at CCL Meerane, Germany using gravure technology. The vivid colours of the stairway and portal arouse curiosity, the typical tactile feel of the lettering completes the futuristic appearance.
All about A&IP Summit
June4-5, Jersey City
News overview