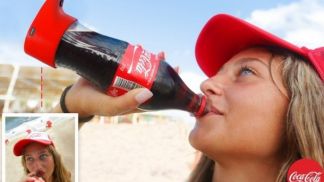 NEWS: Charity Will Benefit From Scannable Coke Bottles
28-11-2016
Global soft drinks brand, Coca-Cola has launched a Christmas campaign that will raise awareness of hunger charity FareShare's work with millions of people across the UK, while raising vital funds to help feed people in need. The charity redistributes food that might otherwise go to waste to other charities and community groups that support vulnerable people.
Until 31 December, FareShare's logo will feature on 30 million promotional bottles. Consumers can scan special labels on promotional 500ml PET bottles of new Coca-Cola Zero Sugar, Coca-Cola Classic, Diet Coke and Coca-Cola Life and 1.25ltr promotional bottles of Coca-Cola, Coca-Cola Zero Sugar and Diet Coke using their smartphones, and upload the images to a dedicated website.
Shoppers can 'Donate a Meal to Someone in Need' simply by buying a promotional bottle, taking a photo of the FareShare logo on the bottle's label and uploading it to the website. Coca-Cola will then donate 25p to FareShare for every image successfully uploaded.
It has been working in partnership with FareShare since 2014 to redistribute surplus drinks that can't be sold because of issues such as damaged packaging or mislabelling, including waters and juices, to charities across the UK.
Caroline Cater, operational marketing director GB at Coca-Cola European Partners, added: "Coca-Cola is synonymous with Christmas, and this year's festive campaign offers a blend of exciting experiences to bring the season to life, together with opportunities to provide meals and clothing to people in need, reinforcing the spirit of Christmas as the season of giving."
Take a Drink and a Selfie
In another development Coca-Cola Israel has incorporated a camera into the base of special 500ml bottles. Every time the container is tilted at an angle of 70 degrees the camera snaps a selfie of the drinker.
The technology is part of a national Coca-Cola Summer Love campaign and is tapping into the Snapchat generation who love to share selfies on social media. The concept was created by Gefen Team. All the pictures are uploaded to the Coca-Cola Facebook page as well as brand's Instagram page.
News overview