Burberry and IBM blockchain team up to improve product traceability
| 11-11-2020 |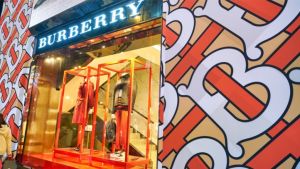 As part of its Extreme Blue internship programme, IBM has collaborated with luxury fashion brand Burberry to develop a prototype system that aims to improve product traceability. The theme for this year's programme was "Sustainability in Fashion". Students were tasked with designing, developing, and testing a new product for an IBM blockchain application.
Called Voyage, it uses IBM Public Cloud and the IBM Blockchain platform to gather data that should allow consumers to trace a garment's production journey and lifecycle, while learning more about the processes involved in its creation. It was designed by the interns to be trialled for functionality in Burberry's mobile app.
Voyage works by identifying a product through scanning a near-field communication (NFC) tag or entering a product ID, before outlining a product's development journey. People can configure their own sustainability preferences and receive tailored product recommendations. Users can also add information about a product's journey to include additional stages in its lifecycle such as recycling and upcycling.
Mark McClennon, CIO at Burberry, says: "The passion and creativity that IBM's Extreme Blue interns showed in developing a prototype solution for a longstanding industry challenge was exceptional. We are delighted to have supported them in tackling this challenge, as cross-functional collaboration across industries is crucial to building a more sustainable future and inspiring the next generation of sustainably minded innovators."
The fashion brand came in for criticism two years ago when it emerged it had been incinerating millions of pounds worth of stock to guard against counterfeits. It says it has abandoned this practice, which was reportedly widespread in the fashion industry. Burberry said that it would step up efforts to "reuse, repair, donate or recycle unsaleable products."
Luq Niazi, global managing director at IBM Consumer Industries said, "We hope that both the students' experiences and this prototype can inspire new ideas around tackling sustainability and traceability for the fashion industry."
"This project has opened my eyes to the complexity of sustainability in the supply chain," said Nikhil Modem, one of the intern team and a computer science student from the University of Durham. "I am now much more aware of the impact each of us has through our fashion choices. I've started to make changes to my own shopping habits too!"
« News feed