Authentication of medicines with barcodes in pill coatings
| 22-08-2019 |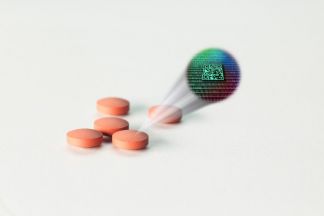 Colorcon and AIPIA member TruTag Technologies have announced a development agreement to enable on-dose verification technology for tablets by combining TruTag's silica-based microtag authentication technology with Colorcon's expertise in film coating systems, modified release technologies and specialty excipients.
The collaboration will see TruTag's edible optical barcodes incorporated into existing Colorcon coatings, with the microtags verified by either a smart phone application or a proprietary reader. Each SiO² particle is encoded with an optical signature that is manufactured into the microtags without the use of additional additives or markers.
The benefits of this innovation, say the partners, include the ability to instantly and unequivocally authenticate products when suspect events occur and specifically addresses the problems of counterfeiting, product diversion, returns monitoring, quality control and product recalls in pharmaceuticals and nutraceuticals.
"On-dose authentication technology represents the next generation in pharmaceutical supplychain security by providing a powerful tool for tracking product from plant to patient," said Kelly Boyer, general manager, film coatings at Colorcon. "By seamlessly enabling authentication, these digitized coatings confirm the quality and origin of medicines, thereby safeguarding both patients and brands."
"Colorcon brings a shared vision for bringing innovation to the pharmaceutical industry, said Michael Bartholomeusz, CEO of TruTag Technologies. "They are market leaders in the filmcoating space, and they have the calibre and reach to make intelligent coatings a new industry standard."
SEE AT AIPIA WORLD CONGRESS AMSTERDAM NOV 18-19
« News feed