AIPIA Virtual Congress Update: Sustainability and Smart Packaging
| 18-08-2020 |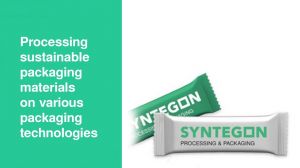 One of the newest, but already one of the biggest names in Packaging Technology Syntegon Technology (the new name of Robert Bosch Packaging) is making its Congress debut with a presentation on a very 'hot' topic, even in these pandemic-dominated times. Fit for Sustainability - How smart packaging and digitization can support players along the value chain will present a practical concept that can link packages to value chain data in order to make good sustainable solutions even better.
Many brand owners and companies along the supply chain invest heavily to bring sustainable packaging solutions to the shelf. However, deciding on suitable sustainable solutions is often not easy, says Syntegon. What appears like a simple choice of material, at first glance, often turns out to be a more complex task requiring information along the entire value chain.
Capturing and storing data such as material production parameters, product properties and packaging processes as well as logistics and disposal can contribute to optimizing sustainable packaging. Matthias Klauser, expert in sustainable packaging solutions at Syntegon Technology, will explain how this can be achieved.
In another presentation Dr Nathalie Muller, program manager at Inspectron will showcase MagID - a completely new way to overtly or covertly mark items or packaging. As part of the verification-as-a-service platform it can be used to identify and authenticate, as well as for secure track & trace in the supply chain. MagID, a magnetic barcode, has been referred to as a "chip-less NFC", making it environmentally friendly Inspectron and its partners say.
Two other sessions will feature smart packaging's contribution to the recycling and circularity issues facing the packaging sector: Ivan Gonzalez, CEO Recycl3R Solutions, will discuss How smart packaging can increase the recycling rates and increase consumer engagement with easy to implement solutions; and a whole panel session is devoted to Recycling and circularity… how digital fits in.
So if sustainability is high on your agenda, but Smart Packaging is too, come and listen to how they can work together.
« News feed