RFID speeds up apparel and shoe store re-opening post COVID-19
| 17-06-2020 |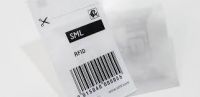 SML Group, an AIPIA member with specialist RFID supply chain technology for apparel and footwear manufacturers and retailers, recently undertook a survey of 20 major companies in these sectors as they swing back into operation, following the COVID-19 shutdowns throughout Asia, Europe and North America. The survey indicates that bringing visibility back to the supply chain is a top priority.
So the company is offering a solution including tags, leased handheld readers and cloud-based inventory management, according to a summary of the survey findings in RFID Journal.
Under normal circumstances, a supply chain pipeline in the European and North American apparel and footwear market carries approximately 3 billion garments and shoes between suppliers and stores each month, SML estimates.
That three-billion-item pipeline emptied out as the virus struck, according to Dean Frew, SML's CTO and senior VP of RFID solutions. Therefore, in returning to business after months of quarantine, many retailers are facing an unprecedented task of sorting, rerouting or marking down inventory that had been intended for sale months ago.
SML interviewed around ten companies each, from North America and Europe, some of which are customers and some that aren't, to understand what the industry is most concerned about as it prepares for reopening. While not the only concern, inventory visibility is high on the agenda, after customer safety. The company found that whether or not stores had deployed RFID technology, they all faced the task of getting a grip on their inventory levels. In fact, Frew says, at least one company reported that it had hundreds of shipping containers loaded with goods that it had not yet opened.
Retailers and brands are under pressure to sort through the inventory they have onsite and in the warehouse to decide whether to put it on the store floor for sale, mark it down or send it back - as well as responding to increased online sales processes.
Survey respondents were sorted into three categories: those already using RFID in their stores or supply chain, those that have RFID tags on their products but are not using the technology, and companies having no RFID technology in use at all. The solution required would vary, Frew says, and is offering support and advice for each of the three categories.
SML's own supply line of passive UHF RFID tags from China stopped as the factory shut down. While it has restarted in recent weeks, the company realised the sort of challenges its customers and others are facing, which led to the survey. He believes those retailers with fully operational RFID tech are at an advantage as they can perform stock counts very quickly and be agile in putting items on sale in the appropriate way or reordering.
For the second category SML offers a software-as-a-service (SaaS) version of its Clarity software, along with the rental of handheld RFID readers. For those without any RFID technology it is suggesting a temporary solution to help these retailers and manufacturers start the tagging process. The company has seen its RFID solution rollout continue during the pandemic, with more than 400 new stores going live since the start of 2020.
« News feed