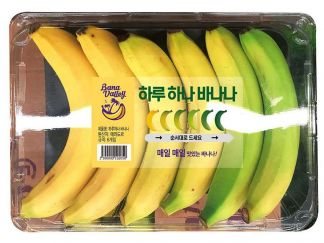 NEWS: Time to go bananas over food waste!
27-10-2018
Not every 'smart' pack has to feature a gizmo or an interactive device to make it clever. One Korean supermarket has launched a new form of banana packaging, which is being hailed as "genius" on social media. Not only does it, in some respects, extend shelf life, but at the same time promotes healthy eating!
The supermarket's innovative wrapping of its bananas includes a pack in which a set of six bananas are placed alongside one another in the packet in order of ripeness. In this way, customers can avoid purchasing a bunch of bananas that are already too ripe - or not ripe at all.
Consumers are encouraged on the E-Mart website to eat one banana per day, starting with the most ripe banana and then working their way through the packet of six.
One person on Twitter has described the product as, "Genius at work," with another person stating that it's a "practical solution to food waste." However, other individuals have been less enthused by the idea, condemning the supermarket for its decision to encase the bananas in plastic packaging. Well you can't win ém all, but here at AIPIA we tend towards the Genius verdict, as the plastics uses far less resources than throwing away one or two spoiled banana.
More about this at AIPIA World Congress REGISTER!
News overview