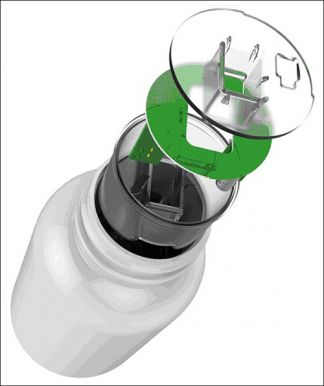 NEWS: Smart Dispensing Solution for Medicines Aids Safety and Compliance
28-11-2016
Amcor Rigid Plastics, a division of Amcor, has announced the launch of an RFID-integrated pill-dispensing solution. The battery-powered system, known as the S.M.R.T Bottle (the initials stand for separate, monitor, release and track), has a clock-calendar function that registers and stores the time, date and number of each dose taken. Smartphones equipped with Near Field Communication (NFC) functionality can then read, display and transmit the information.
The system contains a passive RFID tag made with an NTAG chip produced by NXP Semiconductors. Amcor worked with Netherlands-based Confrérie Clinique, which specializes in smart medical packaging, to develop a new system designed to help ensure user and child safety, as well as drug compliance. This is Amcor's first commercial RFID-enabled product, though others are currently in the process of being developed, it says..
The S.M.R.T. RFID-integrated pill-dispensing system counts the number of pills entering or leaving a bottle, and also monitors the container's temperature. It consists of a two-piece assembly that can be designed for any pill bottle and existing filling lines, without the need for a bottle's sealing process. Amcor injection-moulds a polypropylene insert custom-designed to match the tablet geometry, monitors the container's temperature level and ensures product integrity.
The system shuts off when closure is applied, allowing for a minimum battery lifespan of two years. The technology is currently undergoing field trials.
News overview