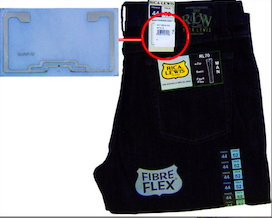 NEWS: RFID now Tracks Levi Clothing in Brazil
22-01-2018
The Brazilian subsidiary of Levi's American brand of jeans and other apparel, is now using RFID for tracking and inventory control. The successful deployment, carried out by iTag Tecnologia, is showing positive results following its deployment during the second half of 2017.
The company decided to test the RFID solution at its own stores, a total of 78 outlets throughout the country, primarily because they all use the same enterprise resource planning (ERP) system. This meant the implementation was less complex compared to the other 62 stores, which utilize 12 different ERPs.
The first test of the solution occurred on Black Friday, when the company recorded a 56% increase in sales compared to last year. However, the firm was unable to determine how much of this was due to RFID, says Rui Araújo Silva, the general director of Levi's Brazil.
"One thing is certain: the ability to easily and quickly replace stock on the shelves was one of the determining factors in this success of our store sales growth," he says. "We just do not know how much it was thanks to RFID specifically, because we are running a series of improvements in store processes and collection decisions this year. Sales are also being impacted by a significant improvement in the country's economic scenario."
According to Silva, all signs indicate that, with RFID, it was possible to meet the needs of in-store customers this time. Most likely, he says, had the company not successfully deployed the technology, its sales might have been hampered by an inability to supply points of sale regularly and accurately.
This view is shared by Jefferson de Paulo, the director of logistics and distribution at Levi's Brazil, who manages the placement of iTag's EM 4124 tags on all merchandise—20% of which is locally produced, with the rest imported. The company currently consumes 50,000 RFID tags per month.
Levi's is using RFID to track products from when they are received at the company's distribution centre. The technology is also being used in sales and inventory processes, in addition to being an anti-theft solution.
News overview