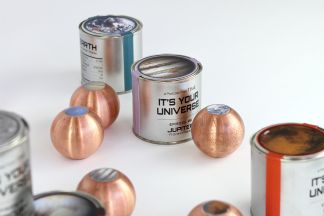 NEWS: Packaging a Podcast 'Adds Tactility' to Listening Experience
01-08-2017
A student at the UK's Royal College of Art (RCA), graduate Seungtae Oh, has created packaging designs for podcasts including Serial and 99% Invisible to add tactility to the listening experience. Oh's Making Podcast Physical project explores the ways podcasts could go beyond audio-only. It also asks how producers could exploit printed materials as a way of boosting their show's identity.
It taps into the trend for more tangible experiences of sound, which has seen vinyl sales soar in recent years, as well as the ever-growing popularity of podcasting – with 67 million monthly listeners in the USA alone.
"Current relations to digital audio content are mainly defined by convenience," said Oh, who created the packaging as part of the RCA's Design Products masters. "This overlooks the way we own, collect and share intriguing content."
He tailored the packaging to the content and format of each podcast, choosing Serial, 99% Invisible and It's Your Universe as examples. Oh echoed the space theme of It's Your Universe by creating metal spheres, placed inside labelled paint cans. The spheres represent the planets and each is weighted differently, to reflect gravitational force. Episodes can be played directly by scanning the picture of each planet with an image recognition app.
For Serial – the investigative journalism series that became the world's most downloaded podcast soon after it premiered with a true crime story in 2014 – Oh created a wraparound cloth book cover to house each season. Listeners are encouraged to interact with the story further through a series of crime scene-style photographs in envelopes, which also include an RFID tag that lets each episode be played directly.
For 99% Invisible – the design podcast which examines the stories behind objects, infrastructure and buildings – Oh created a set of illustrated pamphlets for each episode. The cover graphics nod to the content of each episode, and a QR code that's revealed by opening the folder lets listeners play the podcast from their smartphone.
Other recent student packaging projects include a backpack for festival-goers that lets them drink straight from the bag to avoid long bar queues, and a biodegradable alternative to plastic food packets. Oh's project was on display at the Royal College of Art (RCA) recent graduate show.
REGISTER FOR AIPIA WORLD CONGRESS NOW
News overview