OLED Label Ink set is a 'paradigm shift' for OLED illuminated labels
| 04-10-2023 |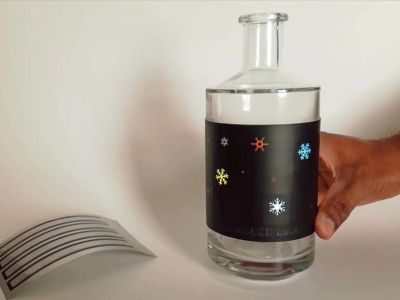 In the dynamic landscape of retail stores, bars, clubs, and seasonal markets, the need for effective product visibility is evident. Illumination technologies are one highly effective means for brand distinction and impactful visual communication says AIPIA member Saralon GmbH a leading developer of functional inks for printed electronics (Saral Inks©) as well as a provider of ready-to-use printed electronic applications.
Following an evaluation of the current market readiness the company has created a new set of Saral Inks, the SaralOLED Label Ink set. With this novel ink set and know-how transfer, the company says it is able to empower the printing and packaging industries to produce self-powered flexible labels with embedded OLED in-house.
Hybrid and printed electronics use various light technologies and easily integrate into different package forms and in-store marketing tools. Within this context, there is a huge demand for ultra-thin flexible labels with preferred OLED lighting technology. Brand managers, package designers and developers face the challenge of seamlessly integrating OLED illumination into the visual language of products, particularly for flexible labels used on bottles.
ALL THIS AT AIPIA WORLD CONGRESS. SEE AGENDA AND HOW TO REGISTER HERE
« News feed