Next generation recycling with digital watermarking gains support
| 29-10-2019 |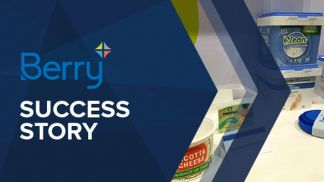 Berry Global Group has announced its participation in the new recycling initiative, HolyGrail 2.0. The outcome of its predecessor, the Pioneer Project HolyGrail, led by Gian De Belder at Proctor & Gamble, was the identification of digital watermarking (specifically, the Digimarc Barcode) as a promising technique to 'tag' plastic substrates or print materials (shrink sleeve, IML label, or paper label) with an identity that could include attributes such as plastic type, product manufacturer, product SKU, food or non-food usage, and composition of multi-layer foils.
Digimarc Barcode can be added to the printed label/sleeve artwork as well as being embossed into the plastic itself. Both Berry Plastics and Digimarc are longstanding AIPIA members.
Berry will manufacture plastic packaging containing Digimarc Barcode for use in product sortation. The two companies are long-time partners, and Digimarc will advise Berry on adding the digital watermark on to drink cups and thin wall lids for containers as part of the project.
"We continue to be amazed at the possibilities that Digimarc brings to us and our customers. It is exciting to see decoration have the potential to make such a positive impact on the recovery of plastics," said Jennye Scott, VP of creative services for Berry.
As an official signatory of the Ellen MacArthur New Plastics Economy Global Commitment, Berry has made a pledge for all of its plastic packaging to be reusable, recyclable, or compostable by the year 2025. In line with the company's sustainability strategy, Impact 2025, Berry is striving to increase the recovery of plastics through recycling. The company's hope is to accelerate the efforts toward a circular economy by pushing the boundaries of innovation in both material recovery and recyclable packaging, it says.
The first test was at TOMRA Sorting's facility in Mülheim-Kärlich, Germany, on October 22, during the K-2019 Show (Dusseldorf) according to the report which appeared in Industry Intelligence.
SEE AT AIPIA WORLD CONGRESS AMSTERDAM NOV 18-19
« News feed