New security seal provides tamper evidence for syringe needles
| 31-01-2023 |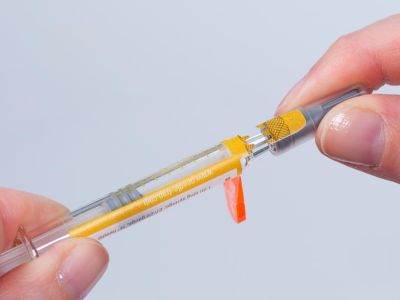 Needle-Trap, a unique label with integrated needle protection from pharma label specialists Schreiner MediPharm, has been complemented by a completely new security feature, says the company.

A special seal indicates that the prefilled syringe has been opened before and helps protect its integrity up to final use. The novel combination of needle and product protection will be showcased for the first time at Pharmapack in Paris, in early February.
A secure supply chain and integrity of drug packaging are important aspects for pharmaceutical manufacturers. Regulations such as the EU Falsified Medicines Directive (FMD) contribute to supply chain security but address only secondary packaging. By contrast, primary containers like prefilled syringes require more specific solutions for tamper evidence and first-opening indication...
Part of Smart Packaging for Intelligent Logistics: SEE HERE
« News feed