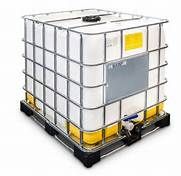 NEWS: New Liner for Rigid IBCs Offers Better Barrier Properties
19-04-2017
MAUSER Group, a German based company specializing in industrial packaging, has developed skINliner™, a new barrier technology for IBCs which combines the advanced barrier performance of multilayer plastic film technology with the logistical and lifecycle benefits of rigid packaging, it claims.
"The integration of flexible liner solutions into rigid industrial packaging and their separation after use has been quite difficult until now," explains Dr. Detlev Weyrauch, head of innovation and processing at MAUSER,. "Liner geometries do not always fit well into these containers and some solutions are difficult to install and can get damaged during use. Based on newly developed welding technology we have created a 'perfect fit' geometry with skINliner™."
The liner is applied like an inner skin to the Rigid Composite IBC's inner surface. It is semi-permanently fixed to the inside of the rigid bottle and so no longer subject to intensive mechanical stress during filling, handling or emptying. This applies to other packaging types like plastic drums.
The new barrier technology has gained full UN approval for dangerous goods and enables MAUSER to expand its IBC product offering. Compared to blow-moulded multi-layer EVOH-barrier IBC bottles, the new barrier IBC provides the same functionality with less material, according to MAUSER.
Additionally, it adds barrier functionality to large volume packaging like IBC bottles where it is needed most – closest to the filled goods on the inside of the container. Also it allows customizing advanced features like barrier functionality or light protection within standard industrial packaging. Positioned inside the container, it not only protects the material inside but also prevents the migration of substances through the container wall.
The liner can be easily to be removed and separated from the IBC bottle, so it enables mono-fractional recycling of non-contaminated polyethylene IBC bottle material.
News overview