Label and ink companies join forces to fight fakes in Europe
| 17-07-2020 |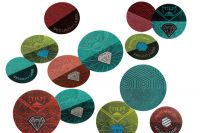 Following the introduction of its integrated security label recently (see AIPIA News 4/6/20) Swiss ink producer and AIPIA member, SICPA and another member, Belgian label printing company REYNDERS have joined forces to strengthen their brand protection and anti-counterfeiting efforts across Europe.
Combining SICPA's strengths in security ink technologies and REYNDERS' expertise in label printing, the partnership will deliver innovative label solutions to companies at a time when counterfeiting and fraud are increasing rapidly, they claim.
"Fast and reliable authentication of genuine products is essential to safeguarding revenues, reputations and maintaining consumer confidence," said Jean-Yves Ray, group marketing director of SICPA, "The agreement with REYNDERS enables us to bring our latest security solution, QUAZAR® to the European market and provide companies with counterfeit-proof marking that makes it easy for consumers to identify authentic products."
Marc Reynders, CEO of REYNDERS said, "This exclusive collaboration with SICPA is the next step in our ambition to strengthen and diversify our product portfolio of security labels. Right now we're seeing an increasing need for quick and simple identification of genuine products in the healthcare and pharmaceuticals sector, due to increased counterfeiting and to protect consumers."
QUAZAR® is a practical solution that can be used to authenticate pharmaceutical products, electronic and automotive components, apparel, food and spirits, and other high-end consumer products, say the companies. Delivered in the form of a unique product security label, it empowers consumers, businesses, and government officials to validate authentic goods and products.
These labels can include tamper-evidence, secure 2D codes, as well as covert and forensic security features offered by SICPA, including customization opportunities. The solution can be integrated and applied on a wide range of packaging substrates. They are produced using propriety technologies, and SICPA and its partners' fully controlled supply chain.
« News feed