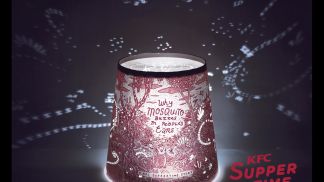 NEWS: KFC Bucket Doubles as Sound & Light Box
20-06-2017
KFC's creative team has come up with a new pack for the South African market, designed to make suppertime a 'theatre, while you eat' experience. KFC South Africa has repurposed its buckets into light and sound displays thanks to the use of some smartphone technology.
The limited edition KFC Family Buckets, allow for one of three Original African folktales to be told. Consumers need to download an app via their smart device, place the phone face down, place the KFC bucket over it, turn all the lights off to enjoy the show.
The three original African folktales showcase important family lessons, says the company.
· Why Hippo Doesn't Eat Fish
· Why Mosquito Buzzes in People's Ears
· Why Thunder & Lightning Live in the Sky
The iconic KFC bucket is the brand's flagship product, it says, and sharing has always been at the heart of its reason for existing. With this in mind, KFC were looking for an innovative idea that could help families connect with each other, and its food, in a new and meaningful way.
With the bucket having mass appeal to families in South Africa, it felt that sharing stories was a powerful way to bring families together and brainstormed around interesting ways of doing that. This audience has high smartphone penetration. So the company wanted to connect this technology with its flagship product and use the combination to reach a new generation of families; reminding them of how special a shared dinner is, but in a modern way.
Drawing inspiration from the iconic shape of the bucket KFC played around with the packaging and realized that, when turned upside down, it had the potential to become a natural light box, which had the ability to illuminate and project amazing shapes when a smartphone torch was placed inside. Linking audio stories to the torch light function was the next natural step.
Following collaboration with smart digital minds and designers and prototyping many designs, it came up with the perfect tech and packaging combination. Also, there is advice on how to use standard KFC buckets by cutting holes in them, if consumers cannot get hold of the special packaging.
News overview