Join the Freakshow says new AR wine label app!
| 18-04-2019 |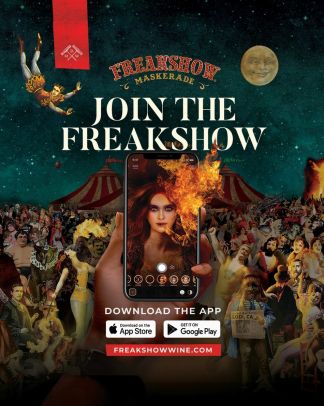 The Michael David Winery, based in Lodi California has announced the launch of its interactive face filter app, using Augmented Rality (AR). Freakshow Maskerade allows users to become their favorite characters from the highly successful Freakshow wine brand and enter to win their way onto the wine label.
"While AR has made its place in the wine industry, we really wanted to use this technology to give consumers a fun, interactive experience that connects them to the brand and wine they're drinking," said Melissa Phillips Stroud, VP of sales and marketing for Michael David Winery. "What better way to do that than making them part of the label?"
The Freakshow Maskerade app features 6 face-changing characters, with 3 additional characters ready to be unlocked by scanning Freakshow wine bottles. Users who share their 'freak'n faces' on Instagram and Facebook with the hashtag #freakshowwine are automatically entered to win a weekly Freak-of-the-Week swag pack.
In addition, the winery will pick one lucky winner and add their real face to the menagerie of freaks on the Cabernet Sauvignon label. Freakshow Maskerade is available on the Apple and Google app stores for free download.
Currently AIPIA has no technical details about who supplied the AR technology, but a quick look at the promo convinces us that it is a freakishly good application!
Since its inception in 2012, the Freakshow brand has grown from 5,000 to 230,000 cases across all 3 varietals.
« News feed