Japanese Sake to get Blockchain security as exports boom
| 08-04-2020 |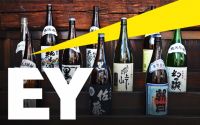 The Japanese branch of professional services provider Ernst & Young (EY) plans to launch a blockchain traceability solution for the alcoholic beverage sake, according to a report in Nikkei Asian Review. The SAKE Blockchain will enable buyers to view provenance details of the drink and allow brewers to identify their product from counterfeits.
Sake is a traditional Japanese alcoholic drink made from fermented rice. Much like wine, sake has several flavors which can be affected by the water used. Using blockchain's transparency, Japanese sake producers may be able to get a better price for their product, claims EY.
The ledger will record the ingredients, brewing method, and quality control measures for distribution, such as monitoring temperature. Additionally, the consumer can scan a QR code on the sake bottle to check details about the brewer and get recommendations on foods to pair with the drink.
In 2018, sake sales around the globe outside its domestic marketreacheda record ¥22.2 billion ($200 million). Of this, nearly 30 percent of all shipments were to the USA, plus a strong growth in China. The drink is rising in popularity, but few sake producers have extensive distribution chains to monitor their product journey to consumers. This has given rise to counterfeiting.
"Being able to tell the story of the production and origin will help to differentiate it from fake products," Hideaki Kajiura, partner at EY Advisory & Consulting told Nikkei. Kajiura added that a blockchain platform would increase sake consumption outside Japan as well as boost brewery tourism in the country.
The blockchain solution will soon be rolled out in Hong Kong and Singapore. There are plans to expand the blockchain solution for track and trace in the country's fruit industry, which has some premium products costing as high as $200 per item.
EY has developed the Ops Chain blockchain, a customized version of Ethereum. It has both private consortium versions of the solution as well as a public edition. It recently released the third generation of zero-knowledge proof (ZKP) blockchain for public network on Ethereum.
The consultants have already used the Ops Chain on another alcohol traceability solution, this time for the TATTOO wine marketplace.TATTOO is supported by The House of Roosevelt – one of the largest wine cellars in Asia – which is using it to secure wines sold directly from vineyards to hotels, restaurants, cafes and individual customers.
« News feed