If you're a swigger you'll love Swigr!
| 07-11-2021 |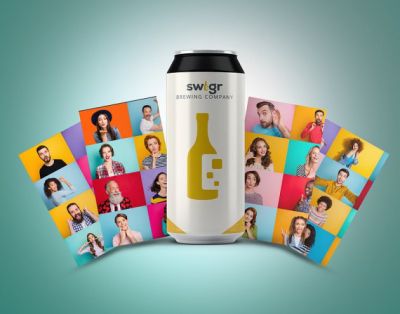 Following its Beerscans and Winerytale Augmented Reality (AR) experiences (see newsletter 06/04/21) Australian-based Immertia, is rolling out a new AR platform , the appropriately named 'Swigr' to help consumers and producers connect through alcoholic beverage product packaging. The AR platform is rolling out to the global alcoholic beverage market, with beer, cider, and seltzer brands as prime targets, according to a recent report in Australian packaging journal PKN.
'Swigr'will act as a platform for alcohol brands to deliver a unique customer experience and, at its core, the concept enables brands to virtually link content to their packaging. Smartphone users scan the packaging to activate a unique experience, which is brought to life with the AR technology.
"It enables beverage brands to deliver unique consumer experiences virtually, activating from cans and bottles anywhere in the world," said Dave Chaffey, founding partner of Swigr."Consumers activate labels with their phones, enabling AR experiences to hover virtually over the packaging. The experience promises authenticity, discovery and real insights from every label, combining content and social media for a fly-on-the-wall experience."
SEE DIGITALIZATION IN PACKAGING CONGRESS AGENDA HERE
"Right from the start, we've focused on answering the question of what's in it for the consumer," explained Chaffey."Discovering the story behind the drink – the people, places, processes – is a real winner. "There are themes of authenticity, storytelling, connection and a sense of realness, which matches the traits of the new digital savvy consumer. They worked well with the Winerytale, a similar concept, modified for the wine industry," he continued.
Swigr launched last month with 50 brands from across the globe. The company is rolling out a second-round launch with another 50 brands in December. Information about the concept, and the second rollout, is available from the Swigr website.
As part of the Winerytale concept the company introduced a clever way to translate wine labels from English (or at least the Aussie version of it) into the Chinese language, by scanning the label. This was also reported in the AIPIA newsletter in 2020. The roll out was delayed due to the ongoing trade war between the two nations, heavily affecting wine exports to China.
« News feed