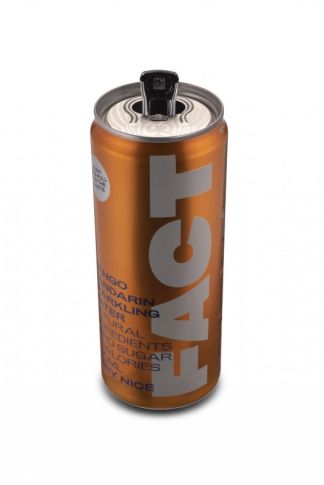 NEWS: Crown Takes Blockchain and Thermochromics to the Next Level
06-07-2018
In a first for the beverage industry, Crown Bevcan Europe & Middle East, a business unit of Crown Holdings is launching its CrownConnect™ technology in conjunction with FACT - an all-natural sparkling drink. Each can will be marked with a 2D unique scannable code, making FACT beverage cans the first ever to be produced with a unique digital identity.
Crown partnered with entrepreneur Olly Bolton, to launch Almond, a blockchain platform that allows consumers to scan a unique hidden product code and rewards them by unlocking tokens that are redeemable for cash. The platform was launched in June of this year and will also unlock details of FACT Water's story, giving unprecedented access to supply chain information and building deeper, trusting relationships with consumers that will ultimately foster brand loyalty, say the partners.
Crown's involvement in the project is very much as an enabler of the technology. As well as producing the physical beverage can its CrownConnect™ technology provides the 2D codes beneath the tab which facilitates the engagement between consumer (via a scanning application) and brand. The platform, developed in partnership with IoT company EVRYTHNG then comes into effect, intuitively generating rewards and offers based on previous purchases and offering discounts and rewards to users based on their habits and the products they buy.
"The Internet of Things, and specifically blockchain technologies, will continue to drive the way brands interact with consumers and Almond is a very exciting step into this area for the beverage industry, commented Matt Twiss, Marketing and Business Development Director at Crown.
Olly Bolton, Founder of Almond added: "The Almond app will allow users to interact with brands in a new way, directly reaping the rewards of their use of the app and pledging their allegiance to brands. Almond establishes a new type of relationship between brands and consumers: one that is symbiotic and mutually beneficial, giving consumers control and autonomy over the type of brands they buy, while also rewarding their loyalty."
Almond-enabled cans of FACT Water are now available to buy in the UK and selected European countries.
Next, Coca-Cola Turkey has launched its summer promotional range, making unprecedented use of thermochromic inks to add colour, function and fun to ten new aluminium beverage can designs, which have been supplied by Crown Bevcan.
Historically, one or two thermochromic inks have been combined to communicate temperature changes. For the first time, Coca-Cola Turkey is using thermochromic ink technology as a true decorative tool, making it an integral part of how the can looks. Four separate inks have been used to create bright designs that stand out when the cans are chilled and the drinks are ready.
The designs featured on Coke Red and Coke Zero beverage cans all have summer themes, ranging from ice cubes and palm trees to sandals and sailing boats. The images are colourless at ambient temperature and change to colourful patterns when the drink is chilled and ready for consumption.
Matt Twiss explained, "While we have used thermochromic ink technology for many commercial applications, the Coca-Cola campaign highlights its potential as a decorative tool, conveying a message of freshness and fun in an aesthetically pleasing and original way. The inks also encourage consumers to interact with the brand at the point of sale and during consumption."
Coca-Cola launched the summer campaign with a video featuring Turkish movie stars taking a refreshing dip in the Mediterranean and enjoying a Coke.
The cans are produced at Crown's 2 billion pa unit capacity Osmaniye plant, in central southern Turkey. A total of 70 million units will be produced in 2018 for this campaign.
News overview