Coca-Cola juice brand scores with novel AR campaign
| 19-08-2021 |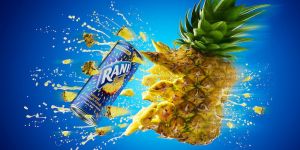 The team at AIPIA Member Appetite Creative recently developed an augmented reality (AR) application, accessible on mobile phones via QR codes, found on cans of fruit juice drink Rani Float. Customers had to scan all four flavours in the correct order to get access to an entry form, which entered them to win tickets to the final of a coveted soccer match.
Appetite partnered with the fruit juice drinks brand owners, Coca-Cola. It is distributed in the Middle East and India. The aim of the campaign was to attract new customers to buy the fruit drinks, by creating a contest to attract a young audience. Another objective was to educate new and existing customers about the drink's real fruit content, high juice content, low sugar and taste.
The web based game encouraged customer interaction, educated them about the different drink flavours and showed them where to find the drinks on store shelves. Instant links to Facebook, Twitter and Instagram were also shared, encouraging customers to spread the word on their social networks.
Data collected directly from customers informed Coca-Cola about the times of day its products were purchased and where and when each flavour was sold. This helped to facilitate personalized marketing messages, leading to greater efficiency and better planning, as well as improved understanding about the customer, it is claimed.
This campaign for Rani Float combined several digital marketing tools and techniques: AR, connected packaging and finally gamification. Gamification is used in playful advertising, as a way to combine advertising with an interactive game or to incorporate game elements into a non-game context. The goal is to provide an immersive, engaging and fun experience with the brand, to encourage customers brand loyalty, as well as encourage repeat visits and purchases, said Appetite.
An average session length of more than four minutes was achieved during the campaign. Data including location and peak usage times were compiled in a fully GDPR-compliant way, with 120% of entry goals met and almost all users completing the game.
"Connected packaging allows brands to be truly consumer-centric, with insights gleaned about product preferences, location and demographic information, as well as a direct-to consumer channel to provide product information," explained Jenny Stanley, MD at Appetite Creative. "Through administration dashboards, it is possible to identify who redeemed which coupon, scanned which QR code, how long a user stayed on the platform, manage competitions and store data in an easy-to-access, real-time, GDPR-compliant platform," she added.
The different layers of data connected packaging can deliver to a brand helps build a unique and in-depth picture of consumer behaviour. In the case of Rani Float, the company was able to expand its customer base while educating customers about the product, collect first-party data and deliver a fun interactive brand experience.
According to a report by Data Bridge, the global connected packaging market is expected to grow at a rate of 7.4% until 2027, giving the market a value of $30 billion by 2027.
« News feed