CONGRESS 2019: Photonic Printing offers unique personalised packaging technology
| 01-10-2019 |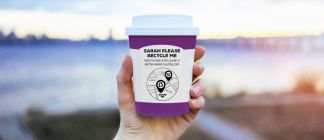 Combining the benefits of traditional print methods with the flexibility of digital, DataLase Photonic Printing Solutions enable fully customised printing at the latest point in the supply chain - where it can deliver the highest brand valueand consumer relevance.
"In Photonic Printing, a functional coating containing patented DataLase laser reactive pigment is applied as a patch using traditional print methods, such as flexography or gravure," explained Eric Ferguson, DataLase Photonic Printing sales director. "Laser systems positioned at the latest stage of the supply chain, point of fill or point of sale, then activate this coating. The pigment changes upon exposure to the laser light, delivering an inkless, high contrast permanent print."
Photonic Printing offers numerous advantages and efficiencies, it says, including:
Increased flexibility using variable data, allowing personalised individual consumer-orientated campaigns and enhanced engagement opportunities
Late-stage packaging customisation enables quicker reaction to trends/market changes, tailoring to specific messages, moments or occasions, in a very short timescale
Encourages positive consumer sustainability behaviour
Effectively communicates important information, such as allergen advice
Enhanced shelf appeal
Positively impacts supply chain costs through SKU rationalisation– less waste, inventory and variability
Improved forecasting accuracy and waste reduction
One example of the company's potential impact is its ability to deliver personalised messages to encourage consumer behaviour towards recycling and to drive change in consumer habits and promote sustainable behaviour towards recycling of disposable hot drinks cups.
With its innovative VAReLaseTM Cup Solutions system, that began pilot trials in June 2019, DataLase has identified sustainability and recycling as one of the key benefits of the technology. Hot drink cups can be individually personalised in real-time at the point of sale. The cup appears blank until exposed to a laser which activates a pigment on the cup material and prints the bespoke design straight onto the surface.
"As a member of the Paper Cup Recovery and Recycling Group (PCRRG) we are keen to use our technology to raise awareness and push an agenda of behavioural change with regards to disposable cup recycling," said Laura Rickards, marketing manager at DataLase. "We see this as a hugely effective way to help tackle the problem of recyclability by encouraging positive consumer behaviour, close the recycling loop and create a circular economy for disposable hot drink cups."
Come and see how Datalase's technology can work for you in the Seeing is Believing area at the Congress
SEE AT AIPIA WORLD CONGRESS AMSTERDAM NOV 18-19
« News feed