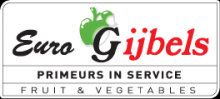 Euro Gijbels
Distribution of Fruit and Vegetables.
EuroGijbels is situated in Geel (Belgium) and active in distribution of fruits and vegetables. As announced in our earlier newsletter their i-Collector was installed in January this year and is since February full operational. EuroGijbels is continuously innovating their services and logistics the i-Collector makes a first step in automation a changing stock and order fulfilment and customer satisfaction it fits complete in their own developed software system. The IT Team of EuroGijbels did a great job by developing the PC software and also it is very good to see how they developed their own HMI based on Windows 8. Therefore our most appreciation and congratulations to the EuroGijbels IT Team.
End of May our System Integrator for China the Damon Group visited EuroGijbels and they were very enthusiastic about our i-Collector and were impressed about the working method of EuroGijbels. At this moment the first introduction in China for e-commerce is taken place. We have high expectations for our business development in China and we wish the Damon Group much succes.
Back to list
Visit website