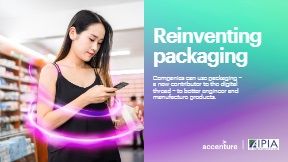 New research report on connected packaging from Accenture and AIPIA
Data is the heartbeat of every thriving modern company. Cars, machines, phones and entertainment devices, for example, generate more data than ever, feeding into the ceaseless stream of bits and bytes that connects consumers and companies.
Now a new research report from Accenture Industry X and AIPIA (Active & Intelligent Packaging Industry Association) shows the rise of a new, unconventional data source: smart connected packaging.
Smart connect packaging means digital-enabled containers and labels that:
drive information to customers to enrich the product experience
pull data back to inform a company's product development and manufacturing
Almost everybody is already doing it: 96% of 1,000 product company executives surveyed said they had begun exploring smart connected packaging. Heineken, for example, is piloting a smart label solution to increase transparency into the environmental footprint of beer bottles (see report.)
This is just one of many use cases. Beyond providing consumers with more and richer product information, smart connected packaging can
make product information more easily accessible for impaired people
help prove product authenticity
capture consumer preferences for product reformulation and new product development
identify consumption patterns, counterfeiting hotspots, and recycling behavior for sustainability audits.
However, Accenture and AIPIA found significant gaps in how companies use smart connected packaging and benefit from it:
Overall, only 16% have what we call a comprehensive, data-driven approach to smart connected packaging. Meaning they use the packaging data streams in a way that allows them to outperform their peers on important business objectives: environmental and social responsibility, customer relevance, and operational resilience
As a result, they were able to increase their revenues by 3.6% on average over three years, equaling an additional $300 million.
How do they do it? Find out about it in the report, which I'm sharing in this email along with the offer to speak to experts from Accenture Industry X and AIPIA.
We hope you enjoy reading this exceptionally insightful Report. Fill out this form to get access to the full report:
Back to list