Thermochromic ink indicates sterilization temperature on cans
| 22-12-2020 |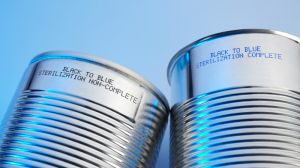 With food safety now the paramount concern amongst consumers, Markem-Imaje which provides a range of product identification and traceability solutions, has launched a new thermochromic ink that changes colour at high temperatures to show the correct sterilization level has been achieved for all packaged food products.
Designed for retort sterilization of filled cans or plastic pouches, the ink changes from black to blue when the food package reaches the correct temperature of between 115 and 125deg C.
Markem believes that with the growing regulatory demands by governments for coding and marking on cooked food products, there is an increased interest in product authenticity and quality assurance. Manufacturers are looking for a highly reliable coding method that can help improve product safety while also fitting with the high throughput and high accuracy demands of their production lines.
This is especially important in the food industry, where heat-treated ready meals packed in plastic pouches are becoming more popular, as well as in baby food and pet food. Thermochromic inks that change colour when the product reaches the required temperature supports this need, it says.
While thermochromic inks cannot guarantee that sterilization has actually occurred, they assist manufacturers by providing a good indication that the process has taken place. The MS596 thermochromic ink can be used to print on both metal cans and plastic film. With excellent adhesion to polyolefin pouches, no pre- or post-treatment of the packaging material is required, according to the company.The ink also aids maximum production throughput with a drying time of only one second on all materials
Giving good contrast on the dedicated white printing area, the ink offers a clear colour change from black to blue at retort temperature. It has an operating temperature from 5 to 40?C, ensuring it can work effectively in a wide range of environmental conditions, claims Markem.
Used in the company's 9450 continuous inkjet printer, the ink also contributes to printing reliability. Unlike some earlier generations of thermochromic ink, today's development will not change colour prematurely due to temperature effects from the printer itself, rather than the sterilization process.
« News feed