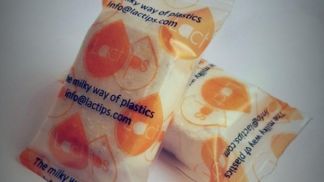 NEWS: The Milky Way: New Protein Based Active Bioplastic
19-04-2017
France based company Lactips has developed thermoplastic pellets based on milk protein, which show an incredible variety of technological properties such as water solubility, edibility and biodegradability according to the company CEO Marie-Helene Gramatikoff.
One of the co-founders Frederic Prochazka, a lecturer and researcher at Jean Monnet University explains the process is not restricted to the production of plastic film, but can also be used in thermoforming, or indeed any kind of plastics application.
"Industry is always looking for new packaging technology, which can have a direct impact on the product environment," says another co-founder Fabrice Plasson. "Specific applications were used in the development of this bio-based plastic to enable excellent barrier properties to oxygen," he claims.
Additionally the biosourced material allows the film to totally biodegrade within 18 days and can then be used as home compost. If you don't want to throw it away then the company says the film is totally edible too!
These 'revolutionary' bio plastic pellets can also be transformed into water soluble film. The product offers the best dissolution in hot and cold water and it's totally biodegradable, compared to most other films that leave chemical residues in the environment, says the company.
Lactips believes it can help its industrial clients to enter new markets by creating a cleaner alternative to oil-based products and one which is more efficient and sustainable for the consumer and the environment.
News overview