Sprite labels get you hip-hopping!
| 05-08-2021 |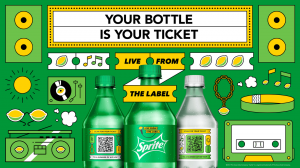 Sprite, the Coca-Cola owned soda brand, has launched a new 'Live from the Label' initiative. Announced in June, its focus is celebrating some of the biggest names and up-and-coming names in hip hop. QR codes appear on special 20-oz bottles of Sprite and Sprite Zero Sugar. By scanning the codes on the labels consumers can receive tickets to a series of summer hip hop concerts.
The consumer is taken to a website that describes how to gain access to a live streamed concert on dates across the summer. The initiative features three concerts and each label is printed with either "Stage 1," "Stage 2," or "Stage 3". The Stage One label provided live stream access to a July 29 performance by Atlanta-based artist Latto. Stage 2's show features Saweetie on August 12, while the Stage 3 Live from the Label performance will be announced at a later date.
Sprite is teaming up with three of the hip hop's hottest names to spotlight three up-and-coming opening acts this summer for the virtual concert series. The promotion was launched on shelves nationwide in USA from late June. As well as unlocking the live streamed concerts, the QR codes give access to replays of previous shows, exclusive merchandise giveaways and reminders about future shows.
"With the Sprite 'Live from the Label' series, your bottle is your ticket," says Terika Fasakin, Sprite brand director. "We saw the opportunity to capitalize on the rising popularity of QR codes and live stream concerts, which both have boomed during the pandemic. And seeing how artists integrated into the digital space in creative ways inspired us and gave us more credence to push forward."
According to one report the QR code streamlined the campaign execution for Sprite, allowing the brand to collect first-party data that is poised to remain important despite privacy regulations, it says.
« News feed