Simple temperature indicators add value to transit packs
| 09-07-2019 |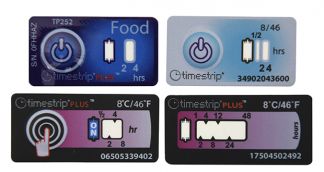 With so many high-tech products being developed in the Active & Intelligent Packaging space it is sometimes easy to forget that some of the most straightforward solutions, such as irreversable temperature indicator labels, are being widely used, at scale, in a variety of roles. While technologically advanced they remain simple to use and are highly cost effective solutions to the problems caused by temperature excursions
So we are pleased to hear that UK-based Kite Packaging has introduced two new temperature indicators, with self-adhesive labels, to monitor package temperatures throughout a specified period. These include self-activated food and pharmaceutical temperature indicators ranging from 5-8°C. The technology is provided by another UK company, Timestrip, which has over 12 years experience in the development of these products.
"We've released our new temperature indicators to help businesses accommodate a maintained temperature in transit. These new temperature indicators are small self-adhesive labels that go inside chilled packaging to monitor contents that need to be kept at a certain temperature," explains a Kite Packaging spokesperson.
These new temperature indicators are an addition to a new chilled packaging range from Kite, which features enviro-friendly insulated boxes, insulated box liners, ice packs, thermal pallet covers and temperature controlled pouches.
There are two specifications available to choose from, food temperature indicators and pharmaceutical temperature indicators which have varied time frames. Each of the indicators are self-activated and will help chilled goods get to their destination at the desired temperature that businesses require.
The indicators monitor the temperature throughout a specified time period and indicate when their maximum threshold has been breached. Each indicator also informs users how long the contents have been above the specified threshold temperature.
Elsewhere Timestrip technology is now being used to ensure the safe transportation of whole blood. Tenet Healthcare, a US healthcare provider needed to comply with local regulatory requirements related to the use of effective temperature monitoring for blood products; but it had to discard any bag of blood that had been exposed to a temperature above 10°C for more than 30 minutes.
The company needed to be absolutely certain that any unused bag of whole blood was 100% safe to be returned to storage for future use. To comply it uses the Timestrip® Blood Temp 10 – 10°C Blood Irreversible Transit Temperature Indicator.
« News feed