Pack Expo Connects will feature Smart Packaging solutions
| 13-10-2020 |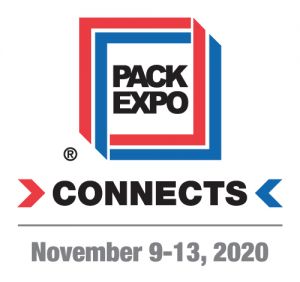 PACK EXPO Connects (November 9-13) is a live, virtual event featuring 600+ packaging and processing solution providers and dozens of presentations exploring sustainability, track and trace, e-commerce, robotics and other challenges affecting today's manufacturers. The event replaces the PMMI owned Pack Expo International which was scheduled to be held in Chicago but has been cancelled due to COVID-19.

AIPIA members and others targeting hi-tech packaging solutions will find a lot to discover, according to the event organizers, PMMI Media Group. Track & Trace comes into focus during Wednesday afternoon's Trend Chat, when Healthcare Packaging editor Keren Sookne discusses serialization for new COVID-19 vaccines and treatments and how regulatory hurdles are starting to make food manufacturing feel a lot more like pharma.
The Monday morning Jumpstart Session will cover sustainable packaging and processing. Here delegates will learn about the latest on the circular economy from Loop, see real-world examples of recycled packaging at work with brands like Annie's Organic, Smithfield and B&G. Consider if syngas and plasma gasification can be the solution recycling has been searching for.

Event registrants can view live demonstrations of technology, chat with technical professionals, and find solutions via an easy-to-search product directory, says PMMI.
Register for free at PACK EXPO Connects. Attendees are encouraged to create a MyConnects Planner to streamline scheduling for the live event on November 9-13.
PACK EXPO Connects is produced by PMMI Media Group, a division of PMMI The Association for Packaging and Processing Technologies.
« News feed