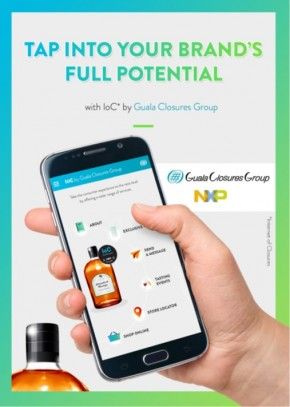 NEWS: New Generation Tamper Evident NFC Closure for Wines and Spirits
19-04-2017
GCL Technologies the technological research centre of Guala Closures Group, in partnership with AIPIA Member NXP Semiconductors, has announced, after one year of intensive research and development, they are able to present the industry's first fully integrated and mass scalable NFC tamper evident closure solution dedicated to the wine and spirits industry.
The new solution will be part of Guala Closures' Internet-of-Closures (IoC) smart family products which feature Near Field Communication-based (NFC) tamper evident closures to protect brands and enable advanced anti-counterfeiting and tamper-proofing.
Additionally, brand owners can have direct engagement with consumers – with a simple tap, consumers can learn more about the beverage in question, such as its provenance, a cocktail recipe or reviews and, after opening, can extend the dialogue to access exclusive VIP offers, loyalty rewards and more.
The companies announced their collaboration in early 2016 to develop the 'new generation' of closures for the wines and spirits sector. This product is the first manifestation of the partnership. The result of their working together will add an extra level of protection to Guala's non-refillable systems.
News overview